Find out why Hallmarking is important for your precious metal jewellery and why your solid gold body jewellery may not be hallmarked. Also, what is a Dealer's Notice?
What Is Hallmarking?
Hallmarking is the legal requirement for all items made from silver, gold, platinum and palladium (with some exemptions*) to be stamped with specified marks to comply with the UK Hallmarking Act 1973.
Hallmarking on your jewellery is a guarantee that the jewellery is made from a specified content of precious metal.
*items exempt from hallmarking are those that fall below the specified weight limits of 0.5 grams for platinum, 1 gram for gold & palladium and 7.78 grams for silver.

What Does A Hallmark Look Like?
Actually a Hallmark is a series of three or more different marks on the piece of jewellery. The three compulsory marks are the Sponsor's or Maker's Mark, the Fineness Mark and the Assay Office Mark. Let's have a look at each of these individually.

What's A Sponsor's Mark?
The Sponsor's Mark, sometimes known as a maker's mark indicates the person or company that is presenting the piece of jewellery to the market. Usually it's who is selling you the jewellery.

What's A Fineness Mark?
This Fineness Mark indicates how much precious metal is in your jewellery. This is expressed in parts per thousand. For example the fineness mark for 14 carat gold is 585. This means that the metal must contain at least 585 parts of gold per 1,000. For 18ct gold it's 750 and for 9ct gold it's 375.
In most cases precious metal jewellery doesn't contain 100% of the precious metal. This is because some precious metals are too soft to be made into jewellery so they need to be alloyed (mixed) with other metals to achieve certain characteristics such as strength, durability and colour.
For example rose gold achieves the sought after rosey hue by combining yellow gold with copper.
You may have heard of 925 Sterling Silver. This means that there is 92.5% pure silver in your jewellery (hence the 925) and the other 7.5% is made up from other metals such as copper.

Who Hallmarks The Jewellery?
Hallmarks can only be added by one of the four UK Assay Offices in Sheffield, Edinburgh, Birmingham & London. This is done after they have tested the metal to ensure it contains the appropriate content of the precious metal.
Hallmarks can be applied in various ways from using metal stamps hammered into the jewellery to using laser hallmarking on fine and delicate jewellery. You can view the Sheffield Assay Office hallmarking process below.
What Does The Assay Office Mark Look Like?
There are four Assay offices in the UK and each has their own mark. Sheffield have a rose, Birmingham an anchor, London a leopard's head and Edinburgh has a three-turreted castle.

Why Is My Solid Gold Body Jewellery Not Hallmarked?
In short, it's too small & lightweight and therefore exempt from Hallmarking. As body jewellery is often really tiny the solid gold in the jewellery regularly weighs less than 1 gram. We know, we've checked each piece!
Of course, should any piece of solid gold piercing jewellery contain more than 1 gram of gold we will have it hallmarked.
We've been working with the Sheffield Assay Office for over 25 years. They test all our body jewellery conforms to REACH: EC Nickel Directive and when required also hallmark our jewellery using our own unique Sponsor's Mark.
So please be reassured that we take the quality and material of our solid gold jewellery very seriously and the only reason the jewellery is not hallmarked is because it's exempt from hallmarking. It has of course been tested by the Sheffield Assay office to confirm that it's 14ct gold and that it conforms to REACH: EC Nickel Directive.
What Is A Dealer's Notice?
One of the requirements of the Hallmarking Act 1973 is that all dealers supplying precious metal jewellery (or other items made of precious metal) must display a notice explaining the approved hallmarks. This must be the notice produced by the British Hallmarking Council (BHC), as below.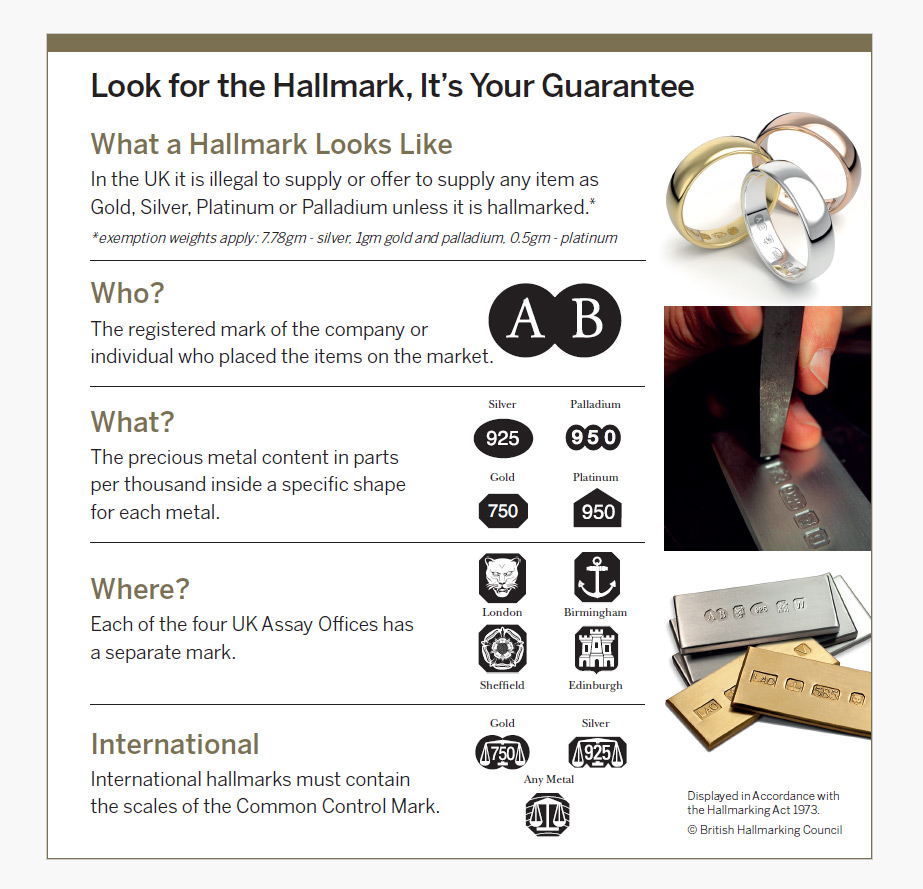 You can also view a short film version of the Dealer's Notice here: