Cheer up a dull day with rainbow body jewellery! This rainbow belly bar is sure to make you smile. Or how about a rainbow stretcher, fake plug or tunnel? We have rainbow piercing jewellery for all your piercings!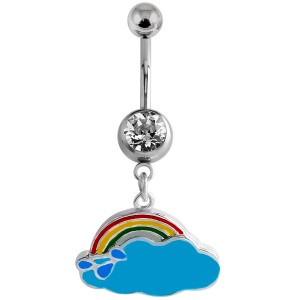 We love this rainbow and fluffy cloud jewelled belly bar. Available in 1.6mm gauge x 10mm length. Shop more belly bars for your navel piercing now!
This acrylic rainbow stripe eyelet is a single piece tunnel with flared ends. Available in 6mm – 12mm gauges. Shop more large gauge ear piercing jewellery now!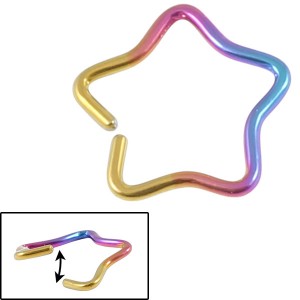 These titanium continuous star rings are great for your helix, rim and daith ear piercings. Available in 1.0mm or 1.2mm gauges. Shop more continuous rings now!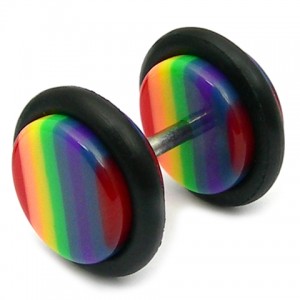 Fake it! With an acrylic rainbow fake plug. You just need a 1.2mm gauge piercing to wear this but as the disks are 8mm across (excluding "O" ring) it looks like you have a large gauge piercing! Shop fake piercing jewellery now!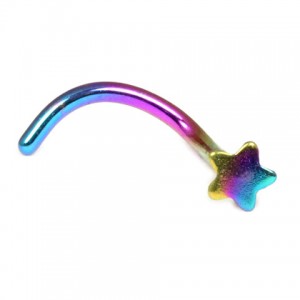 A little rainbow for your nose! This lovely little titanium rainbow star nose stud is available in 0.8mm gauge. Shop other nose studs now!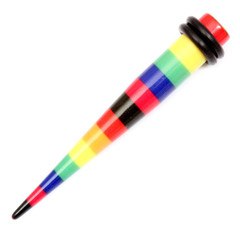 Don't worry we have this rainbow stripe taper expander for those of you who are stretching up your piercing. Available in 3mm – 8mm gauges. Shop more tapers, expanders, and stretchers now!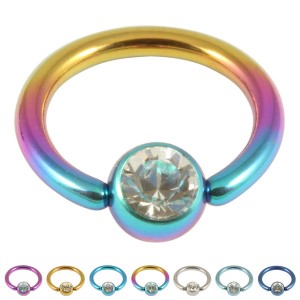 This rainbow titanium jewelled ball closure ring (BCR) is available in 1.0mm, 1.2mm and 1.6mm gauges and internal diameters of 8mm – 16mm.  Shop more rings and BCR piercing jewellery now!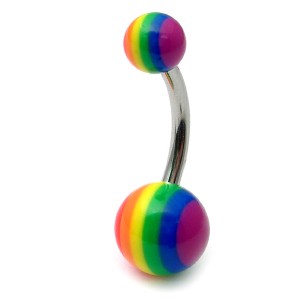 It's stripy! We love this acrylic rainbow belly bar in 1.6mm gauge x 6mm, 8mm, 10mm and 12mm lengths. Shop more acrylic body jewellery now!