Nipple piercings are usually pierced horizontally at the base of the nipple but can just as easily be pierced vertically or any angle in between!  In many people it is also possible to have multiple nipple piercings often crossing each other.
Some of the first male nipple piercings are believed to have been worn by the Karankawa Native Americans.  With female nipple piercing coming to the fore in the 1890's when Victorian women began to have their nipples pierced with gold rings, some wearing delicate chains or pearls strung in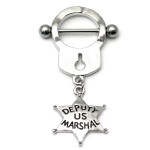 between.
More recently nipple piercing has become popular with celebs like Rihanna, Pink, Christine Aguilera & Nicole Richie sporting nipple jewellery.
If you're wondering what jewellery to wear in your nipple piercing the most popular choices of nipple jewellery are barbells, BCR rings and circular barbells (CBB).  Bar closure rings and coil closure rings are also a good alternative.

Once you've decided on the type of jewellery you're looking for you can select what material you fancy.  Choose from steel, titanium, PVD black & gold or gold plate.  You could also use a flexi shaft barbell that can be cut to size to give you the most comfortable fit.
Nipple surrounds and shields have also become fashionable since 'Nipplegate' when Janet Jackson bared her pierced nipple during the Super Bowl.  Choose from designs like angel wings, rose, star, heart and Deputy US Marshall!
If you're looking for something a little bigger try a large gauge BCR ring available in sizes up to 8.0mm gauge or a snap BCR up to 12.0mm gauge.
Or perhaps you fancy a slave ball BCR ring, or two!