These ear stretcher multi-packs are great to change up your large gauge ear piercing! Stretch and save with these mixed body jewellery packs like our acrylic stretching kit with a massive 70% off!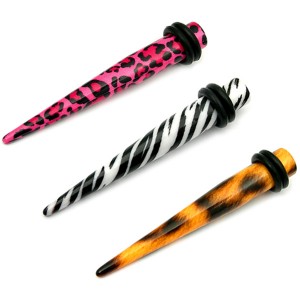 Go wild with this mixed pack of animal print stretchers. Featuring a neon pink leopard stretcher, black & white zebra print stretcher and the ever popular gold and brown leopard print stretcher. This pack contains one of each stretcher pattern, all in the same size gauge. Sizes available are: 4mm gauge pack, 6mm gauge pack and 8mm gauge pack. Shop now!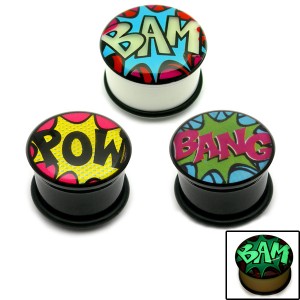 BAM! POW or BANG! Can't make your mind up? Don't worry this comic acrylic plug multi-pack has them all! The BAM plug has the added benefit of looking great under UV light and glows in the dark! This mixed plug pack is available in 5 gauge sizes; 8mm, 10mm, 12mm, 14mm and 16mm gauges. Buy this pack now!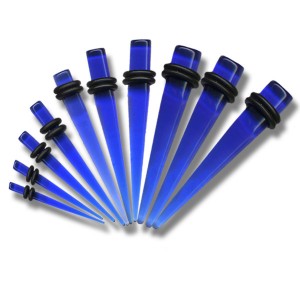 Wow! Over 70% Off this acrylic taper stretching pack, compared with buying each taper separately! Stretch up your large gauge ear piercing with this 10 piece ear expander kit. This pack includes 10 stretchers in ever increasing sizes from 1.6mm – 10mm gauge.  Currently only available in blue, but if you ask us nicely I'm sure we could make you a pack in another colour! Buy now!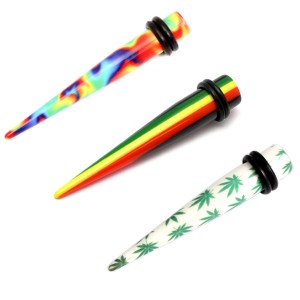 This laid back groovy acrylic stretcher multi-pack contains a psychedelic stretcher, Rasta stretcher and ganja stretcher. Each packs contains one of each design in one size of gauge. Gauges available: 4mm, 6mm and 8mm. Buy now!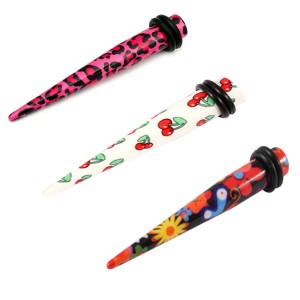 This kitsch acrylic expander pack features a pink leopard stretcher, red cherries stretcher and flower power stretcher. This multi-pack is available in 4mm or 6mm or 8mm gauges. Shop now!
Check out of full range of ear stretcher jewellery now! We have large gauge ear tapers from 1.6mm gauge to 30mm gauge.