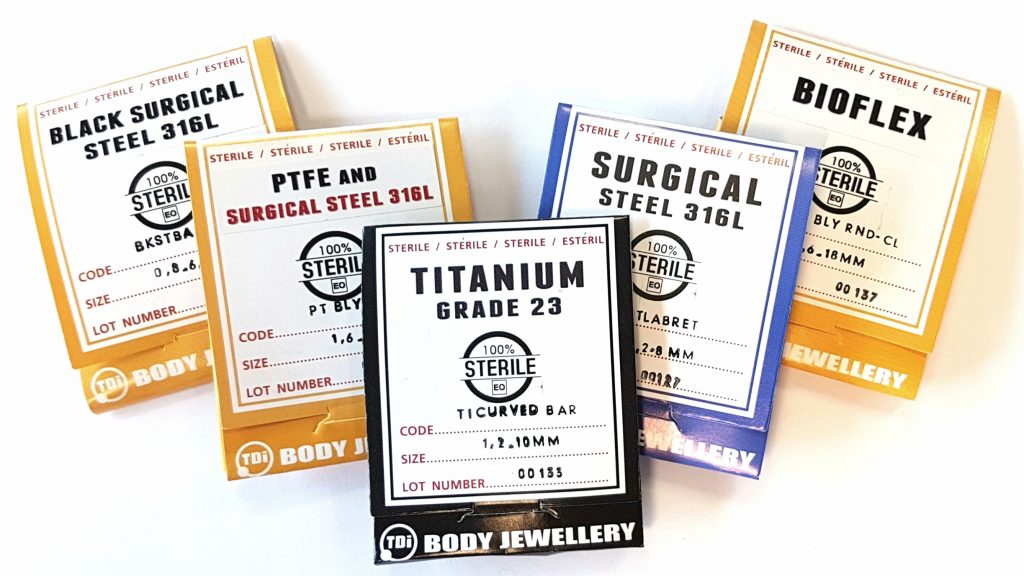 Ready to use, Sterile body jewellery is just so convenient! Pre-sterilised piercing jewellery is individually sealed, dated & sterile for up to 5 years.
Our pre-sterilised body jewellery is perfect for both the professional piercer and the pre-pierced aka personal use.

You can't beat that feeling when you have gorgeous new body jewellery and all you want to do is put it in NOW!!!  But wait, you know you have to clean it, right?  In a saline solution.  Or do you?  Well, not if you choose pre-sterilised piercing jewellery!!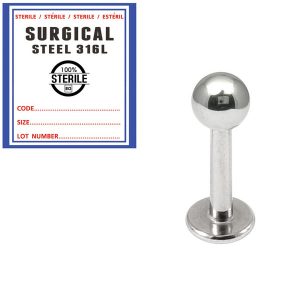 We have Sterile Titanium, Sterile Surgical Steel and Sterile Black Steel in a selection of product types and sizes.  Not forgetting our pregnancy bars in Sterile BioFlex and Sterile PTFE.

Sterile body piercing jewellery is available in a great range of products suitable for initial piercings and is just so convenient for the professional piercer; saving you the time, hassle and upkeep of an autoclave.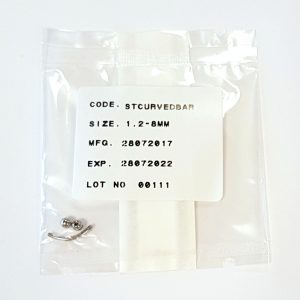 All our sterile jewellery is individually sealed in a clear pouch so you can view the jewellery and check that you've ordered the correct size and product for your piercing, before you open the pack.
Every pouch is marked with the date that the jewellery was sterilised, and the date that the sterilisation expires; it's safe and sterile for up to 5 years.  Along with the product size, type and batch number.  Each sterile pouch is placed in an individual product envelope with clear details of the type and size of jewellery inside.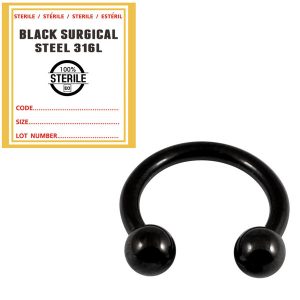 TDi sterile body jewellery is sterilised using Ethylene Oxide (EO) Sterilisation for maximum quality and confidence.  This high quality sterilisation method is very effective at killing bacteria, fungi and mould and is used in the healthcare sector to sterilise devices and instruments such as stents, catheters, and wound care dressings.
The Ethylene Oxide (EO) Sterilisation process involves exposing the body jewellery to ethylene oxide gas under vacuum inside a sealed chamber.  This process assures the body jewellery is safe, sterile and ready to use for initial piercings and ideal for healed piercings also.
When stored correctly (kept out of the light) the jewellery will remain sterile for up to 5 years.

TDi's sterile body jewellery has been independently analysed for sterility by a specialist company whose laboratory is UKAS accredited to ISO17025 and is MHRA approved for microbial monitoring of controlled environments. A copy of TDi's Certificate of Sterility Analysis can be viewed at the bottom of this page.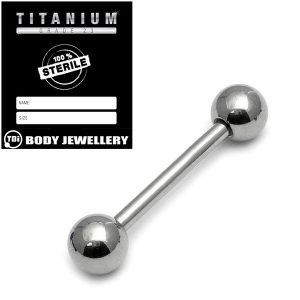 Our Sterile Titanium collection includes the most popular sizes of barbells, BCR's, nose studs, labrets, dermal anchor, curved bar, belly bars, CBB's, bar closure and open nose rings.

Featured in our Sterile Surgical Steel range we have belly bars, Circular Bar Bells, labrets, nose studs, BCR's, straight bars and curved bars.
In our Sterile Black Surgical Steel section you'll find labrets, nose studs, curved bars, CBB's, Ball Closure Rings and barbells.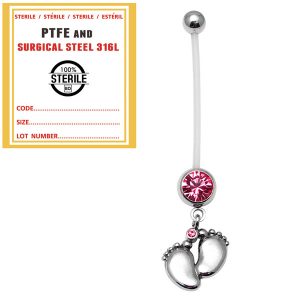 Pre-sterilised PTFE maternity navel bars are ideal for your piercing during your pregnancy.  You can even wear them for your ultrasound scan, just unscrew the top and bottom balls, leaving the PTFE bar in place.
These gorgeous sterile pregnancy belly bars feature the cutest baby feet design with a highlighting gem in a choice of pink, blue or clear.  The shaft is supplied at a 30mm length and can be easily shortened using scissors or a sharp knife.  Check out our 'How to Reduce the Length of PTFE & BioFlex Body Jewellery' guide for an easy step by step tutorial.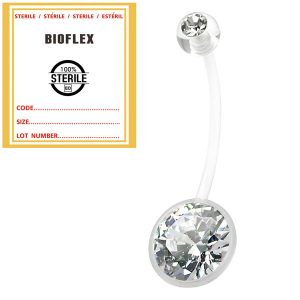 Sterile BioFlex Pregnancy Bars are ideal for your belly piercing during your maternity.  The medical grade BioFlex is safe to wear during your ultrasound scan, the top ball can be unscrewed, the bottom gem is fixed to the navel bar.  They're flexible, comfy to wear and super sparkly.  These are supplied at a 20mm length so you can cut the BioFlex to length giving you a custom fit.
We're always adding new sterile body jewellery products to the range, so keep an eye on our new products page to be first to know!
TDi' Body Jewellery Ltd's Certificate of Sterility Analysis: