There are many different ways to pierce your belly depending on the look you're aiming for.  The most popular being when the skin fold directly above the belly button is pierced.
You can also do a similar piercing underneath the belly button, the inverse navel piercing.  You could even do both, and join them together by wearing one piece of jewellery like an industrial or scaffold barbell.
Similarly you can pierce the sides of the belly button too.  It's really up to you and your anatomy, your piercer will be able to advise which style of navel piercing will best suit you.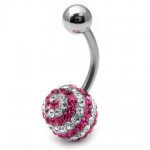 What jewellery to pierce your belly with?
For your initial piercing you should choose titanium body jewellery as it is 'bio-compatible', being used extensively by the British and American medical associations for implants due to its total resistance to attack by body fluids.  This is the safest material to be pierced with.
Your piercer should tell you how to care for your new piercing and it is important to follow their guidelines to ensure your piercing heals quickly.
What is the best body jewellery material to wear in my healed piercing?
Once your navel piercing has healed you can wear pretty much any navel jewellery you fancy!  Most people can wear steel, silver, PVD and gold without any problem at all.  If your skin is sensitive and you have found that your piercing has taken a long time to heal, over 6 months, you are probably better to stick to titanium body jewellery in your piercing.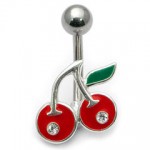 What style of jewellery can I wear in my navel piercing?
There are just so many choices when it comes to belly button jewellery the most popular is the belly bar or banana. Think of almost anything you fancy and you can probably get it for your navel piercing.  You can choose anything from ladybirds and flip flops to hearts, flowers and skulls!  Jewelled belly bars are particularly popular in the summer months when the sunlight makes the jewels sparkle.
For something different try a spiral like this titanium jewelled spiral.
What jewellery can I wear in my pregnancy navel piercing?
PTFE pregnancy bars are the safest and highest quality materials to wear in your piercing during pregnancy. You will be pleased to know that you can keep your belly piercing during pregnancy.