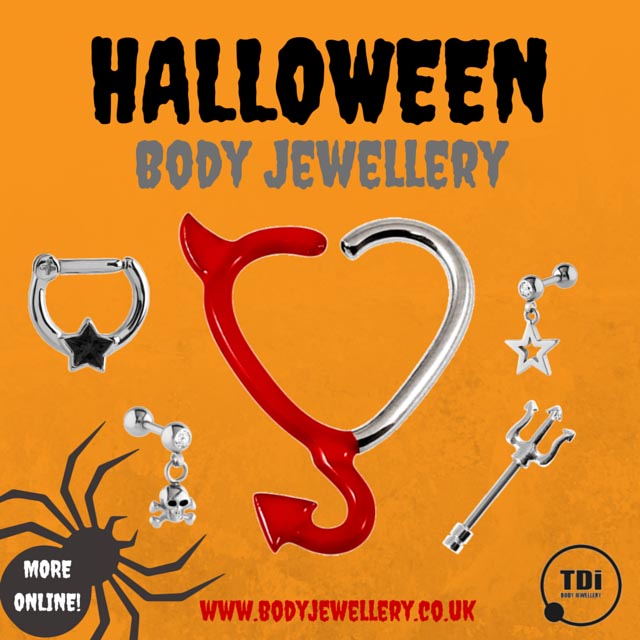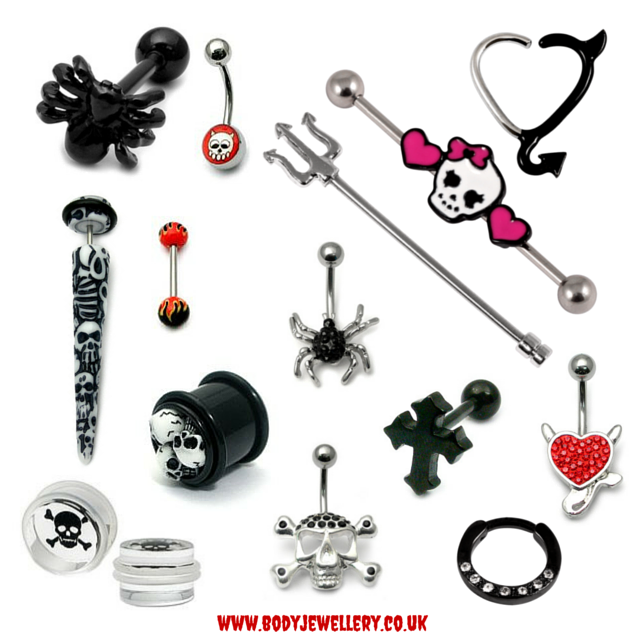 Boo! So you're looking for Halloween body jewellery, well you've come to the right place!
We have everything you could ask for including spiders and skulls, devil's, flames, stars and pentagrams! So let's have a look at some of the featured products in more detail!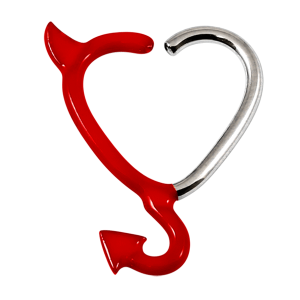 Steel Horny Devil Continuous Heart Rings
Who doesn't love a little heart ring for your rook, daith, helix, rim, conch and other ear piercings (hey, you put it wherever you fancy!)  These are even better with their naughty devil horns and tail.  Available in red, black or classic mirror polish surgical steel designs. The red and black designs are created using a coating of very hard wearing enamel.  To open, carefully push one end back and the other forward.  Best not to pull it apart from side to side (like opening a bag of crisps) as it could put it out of shape!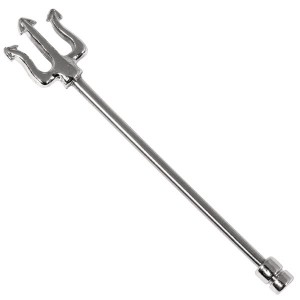 Steel Devil's Pitchfork Industrial Scaffold Barbell IND20
It's a pitchfork, but not just any pitchfork, it's a Devil's pitchfork industrial barbell! It's 1.6mm gauge and 36mm long and perfect for your scaffold ear piercing!  Did I mention that we also have a Devil's pitchfork nipple bar, available in 1.6mm gauge x 14mm length, ooooh yeeees!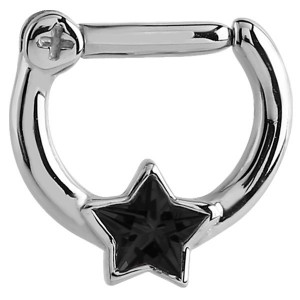 Steel Septum Clicker Jewelled Star
So septum nose piercing is a big thing right now and this sparkly jewelled star septum ring is ideal for Halloween, or really any other holiday! Available in both 1.2mm and 1.6mm gauges, and with a black jewelled star or a crystal clear star. If you're wondering why it's called a septum clicker, that's because the bar has a hinge on one side and closes securely with a click, now you know!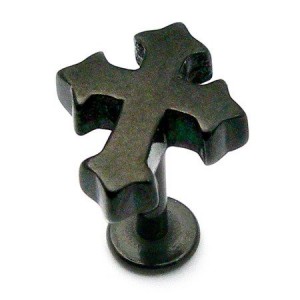 Black Steel Labret with Black Steel Gothic Cross
These black steel gothic cross labrets are the perfect Halloween accessory.  This gothic cross labret is available in 1.6mm gauge in 4 lengths of 6mm, 8mm, 10mm and 12mm. We also have a gothic cross barbell in the same sizes! Now all you need to do is decide is which one you need and where you're going to put it!
Steel Skull Dangle Charm Tragus Bar
Sooo cute!  This tiny little skull and crossbones charm hangs from a 1.2mm gauge x 6mm length barbell with crystal clear jewel. Perfect for your tragus, auricle and pinna ear piercings.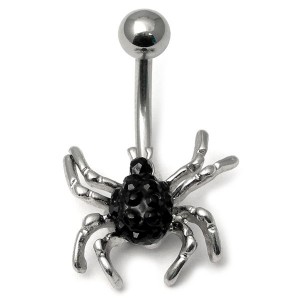 You've got to love a spider for Halloween! This jewelled spider belly bar features sparkly jet black gems over the head and body. This surgical steel navel bar is 1.6mm gauge x 10mm length.
Check out out full Halloween Body Jewellery collection for LOADS more!