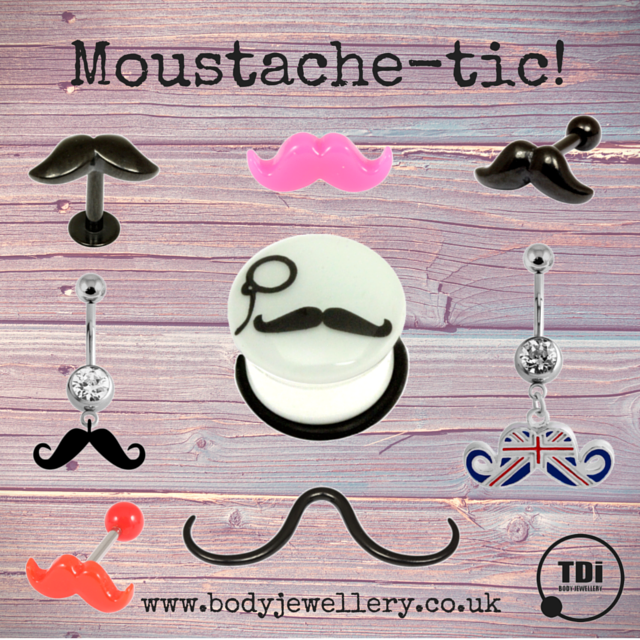 Moustache-tic! We love a mustache and we love body jewellery so we're super excited about this moustache piercing jewellery collection!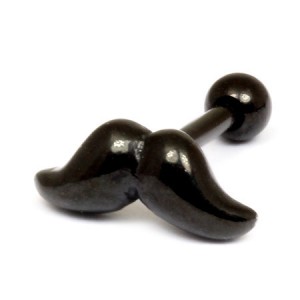 This Black Steel Barbell with Black Steel Moustache is my favourite moustache, ever! This 1.2mm moustache barbell would look great in your ear piercings with the 1.6mm moustache bar is ideal for your tongue piercing. The 1.2mm gauge is available in 6mm, 8mm, 10mm and 12mm lengths.  The 1.6mm gauge version is available in 10mm, 12mm, 14mm and 16mm lengths.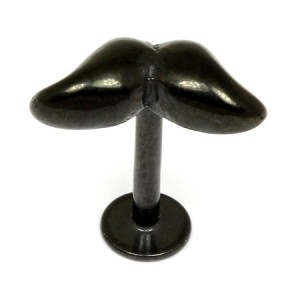 We also have a Black Steel Labret with Black Steel Moustache, perfect for your lip piercings, particularly your medusa!  This labret is available in 1.2mm and 1.6mm gauges and lengths of 6mm – 12mm.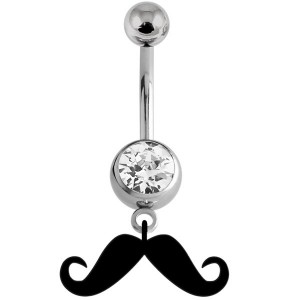 This Black Moustache Belly Bar has a sparkly clear jewel in the surgical steel belly bar and features a rather dapper looking black moustache which sits nicely over your belly button.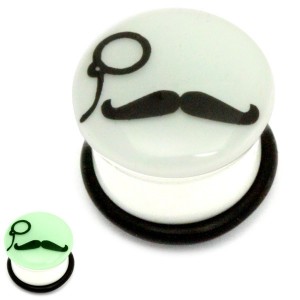 Suits you! This Acrylic Monocle Moustache Plug looks great in your large gauge ear piercing! Even better it also glows in the dark, see the small pic on the bottom right of the main image (it glows brighter in actual darkness than in our photo studio!).   Available in 6 gauge sizes of 4mm, 6mm, 8mm, 10mm, 12mm and 14mm.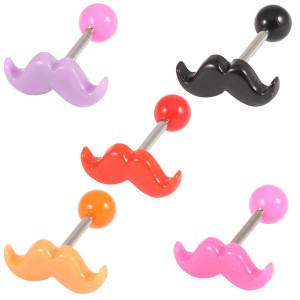 It's hard to beat these Acrylic Moustache Barbells with their vibrant colours, they just make me smile! This 1.6mm surgical steel bar is ideal for your tongue piercing as it features an acrylic moustache and acrylic end ball, both of which are very lightweight which makes this barbell extra kind to your teeth.   Available in 5 fun colours of black, orange, pink, purple and red and in 4 lengths of 10mm, 12mm, 14mm and 16mm.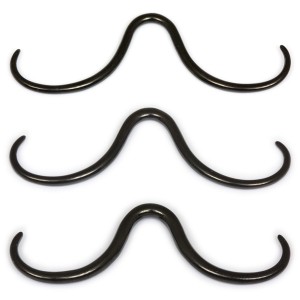 "Love it – it's brill and comfy and awesome!!" That's what one of our customers said about this PVD Black Steel Septum Moustache and who are we to disagree! Available in 3 different gauges – 1.6mm, 2mm and 2.5mm, get that sophisticated moustache look without the hard work of growing one!   p.s. you may have seen similar products made from horn which are prone to break easily, these are sturdy surgical steel so no need to worry!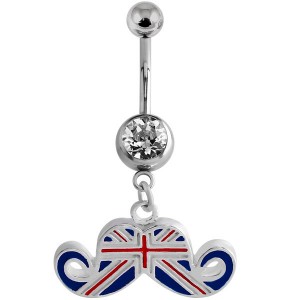 What could be more British than this Union Jack Moustache Belly Bar? This surgical steel belly bar has a sparkling clear gem and features a dangly union flag design on a moustache shape.  This would be perfect to wear to support our national team at international sporting events. Go team GB!  We have other Union Jack body jewellery available online.
We have lots more moustache body jewellery online now!