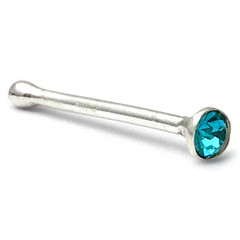 If you're wondering why Sterling Silver only has 92.5% pure silver in it, hence the name Sterling '925', that's because pure (99.9%) silver would be too soft to make jewellery.  The other 7.5% is usually copper as this gives the silver the strength and durability required for jewellery and other applications.
Everyone loves a little sparkle and these shimmering crystal studs are just perfect. Choose from round or square crystals in 10 sizes and 9 colours, including crystal clear, black diamond, purple and turquoise to name but a few.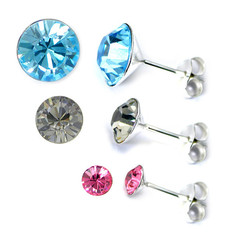 Or how about some solid silver (it's not plated!) stud earrings in heart, star, dome, cross or ball designs.
So easy to wear, these are your throw on every day, match every outfit earrings, surely that's an extra minute in bed!
Don't forget that you can use any of the stud earrings as nose studs too!  Just remove the butterfly back and bend into an 'L' shape.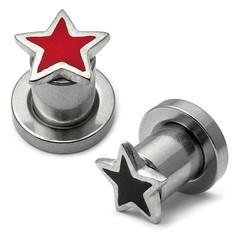 Ever popular, Sterling silver nose bones are available in 12 sparkly colours.  Nose bones are 0.6mm in gauge, and measure 6mm long between the ball at the end and the gem.  It's always useful to have a spare, so nose bones are sold in pairs!
Solid Sterling silver flesh tunnels in star and round designs are also available in 3 sizes from 6–10mm gauge. Also enamel star flesh tunnels with red or black stars in 3 sizes from 4-8mm gauge.