Not sure whether to buy your mum a new nose ring or belly bar for Mother's Day?  Of course, this is very dependant on what piercing she has, or is getting, so let's presume she's got a belly piercing and work out her style profile, and then you can apply that to any other body jewellery.
Here's our easy guide to buying body jewellery for your mum.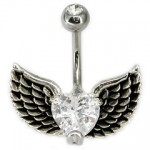 Rock n Roll mum had a crush on Jon Bon Jovi and knows who AC/DC are!  A quick root around her wardrobe will probably reveal a pair of black leather trousers, that may or may not still fit her and, if she's very trendy right now, she'll be easy to spot in her on trend leopard print.  This mum will love this winged heart belly bar that has been oxidised to show the feather detailing on the wings, and finished with a clear heart shaped jewel in the middle.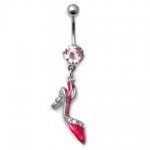 Glamour mum knows her way around a beauty salon where she loves to spend time trying the latest treatments and catching up with all the chat. Glamour mum can run around the supermarket in her skyscraper heels without a second thought and never leaves the house without her lipstick! This mum can spot a fake Jimmy Choo at 50 paces and she will love this sparkly gem set high heel belly bar. View more jewelled belly bars here.

Stylish mum is a follower of fashion but not a victim to it!  She knows how to translate the latest trends into something that will suit her.  Her style is contemporary, she likes clean lines and good quality is important to her.  This mum knows her colour-blocking trend from her new nudes and knows the skirt length du jour.  She will love this stunning heart drop BCR with its classic lines and subtle little sparkling gem.
You can view lots more navel piercing jewellery here.