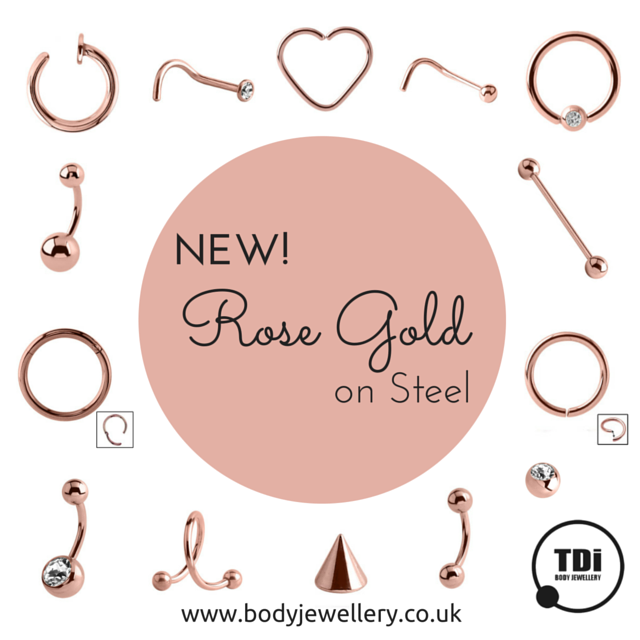 Our new Rose Gold on Surgical Steel body jewellery collection is just flying out!  It's probably one of the most popular and fastest selling new ranges ever! It's entirely possible that by the time you get to the end of this blog we will have sold out of some items, but not to worry we have LOADS more on order!
Let's have a closer look at some of your favourite rose gold jewellery for your piercings.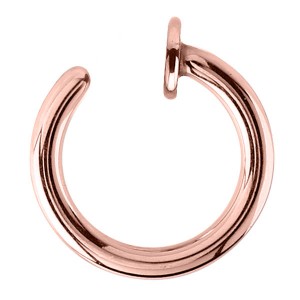 Rose Gold Steel Open Nose Ring (Rose Gold colour PVD) – open rose rings are our most popular nose rings!  They're just so easy to pop in, comfortable to wear and look great…of course! The small flat disc rests discretely inside your nostril. Available in 0.8mm, 1.0mm and 1.2mm gauges and 3 internal diameters per gauge of 7mm, 8mm and 9mm.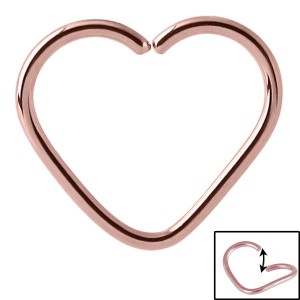 These Rose Gold Steel Continuous Heart Rings are great for your ear piercings.  Originally designed for daith piercings these heart rings also look great in your rook and helix ear piercings. I've even seen them used as an orbital rim piercing and it looks amazing!   Available in 1.0mm and 1.2mm gauges with an internal diameter of 10mm. To open push one end back and the other end forward, best not to pull apart (like opening a bag of crisps!) as it could pull it out of shape.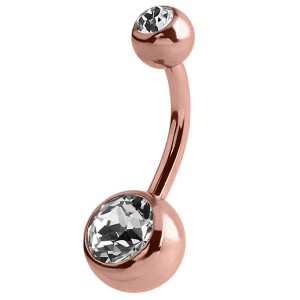 Rose Gold Steel Double Jewelled Belly Bars (Rose gold colour PVD) look gorgeous in your navel piercing.  The delicate rose gold colour works well with all skin tones and the crystal clear sparkling gems highlight the navel bar perfectly. Available in 1.6mm gauge x 10mm length.  We also have a single jewelled rose gold belly bar and a rose gold belly bar without the gems.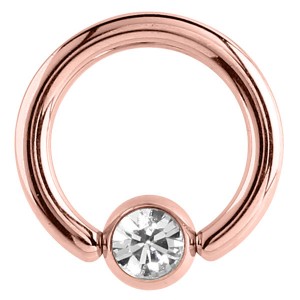 Rose Gold Steel Jewelled BCR. Rose gold coloured PVD with Crystal Clear Gem. We love a ball closure ring (BCR) especially one with a sparkly gem to set it off perfectly!  BCR's are so versatile and are ideal for lots of different piercings including the septum, tragus and lip.  Available in 1.2mm gauge with either 8mm or 10mm internal diameter.  We also have the rose gold BCR without the gem in 1.6mm and 1.2mm gauge.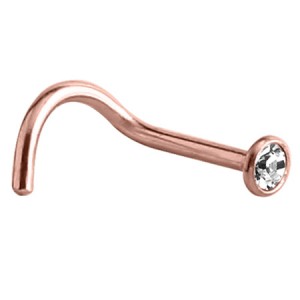 This Rose Gold Steel Jewelled Nose Stud has a curved tail for a quick and easy fit. Also known as corkscrew nose studs, this rose gold nose stud has a glittering clear gem that sparkles as it catches the light. Available in 1.0mm gauge with a 2mm gemball. We also have a Rose Gold Steel Nose Stud Ball (Rose Gold colour PVD) – without gem in 0.8mm gauge.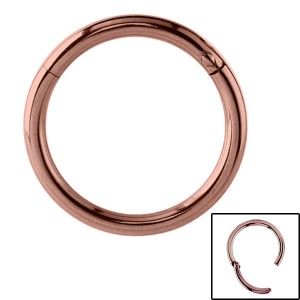 If you like a plain style piercing ring, then you'll love this Rose Gold Steel Hinged Smooth Segment Ring (Rose Gold colour PVD)! The very clever little hinge swings open for easy fitting and clicks firmly shut for a secure fit. Available in both 1.2mm and 1.6mm gauges, this versatile ring can be worn in so many piercings in the ear and lip, nose, navel and more! The 1.2mm gauge is available with an 8mm or 10mm internal diameter.  The 1.6mm gauge is available with an 8mm, 10mm and 12mm internal diameter.
We have loads more Rose Gold body jewellery online now!