Celebrate Saint Patrick's Day with Irish flag body jewellery. Add an Irish flag threaded ball to your labret, barbell, tongue bar or try an Irish flag belly bar in your navel piercing.
Are you impressed with our body jewellery shamrock and flag design? Find out what we used to make it below.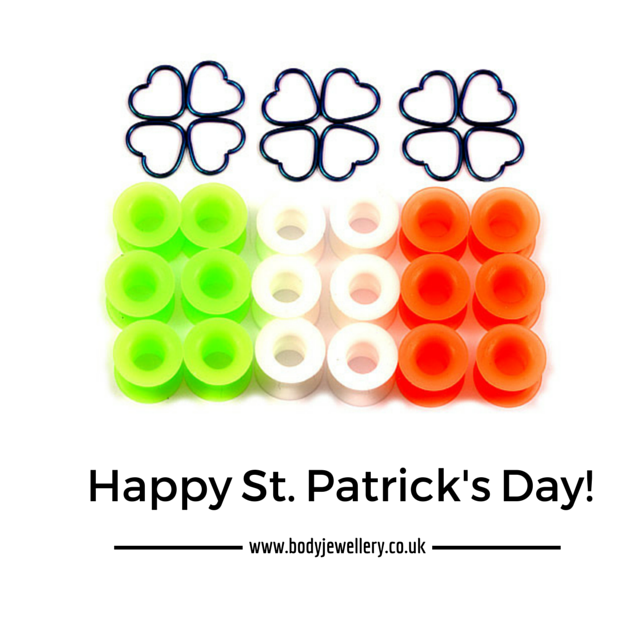 Irish flag steel logo balls are great to add to any of your 1.6mm gauge body jewellery and ideal to celebrate Saint Patrick's Day!  These 6mm balls would look great on your tongue bar, labret, barbell and spiral body jewellery. Shop all threaded attachments now!

Irish flag belly bars are just perfect to adorn your navel piercing with this St. Patrick's Day! These steel navel bars are available in 1.6mm gauge x 10mm length. Shop all belly bars now!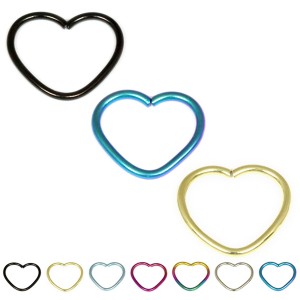 Continuous heart rings are ideal for daith, helix and other ear piercings. These heart rings are easy to use, just hold each side of the heart and gently pull one side forward and the other side back, in effect twisting it open. Open it just enough to get your body part through! Best not to pull it open side to side, think of opening a bag of crisps; good for crisps, bad for these heart rings!
These continuous heart rings are available in a variety of materials; titanium coated steel, Zircon steel (gold colour PVD), steel and black steel. Not to mention lots of colours including pink, purple, turquoise and gold.
If that's not enough choice for you we also have continous heart rings with glitzy balls or jewelled balls in the middle!  Shop all continuous rings now!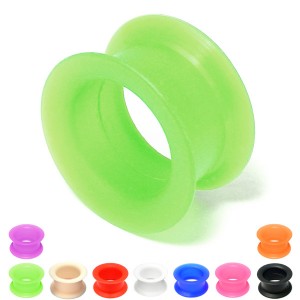 Silicone tunnels are soft, flexible and lightweight and great for your large gauge ear piercings! Silicone tunnels are available in 24 sizes from 4mm – 50mm gauge! To make it a little easier for you to find your size, we've split up the sizes into four size ranges; 4mm-20mm gauge, 22mm – 30mm gauge, 32mm – 40mm gauge and 42mm – 50mm gauge.
Silicone body jewellery is bio-compatible which means it's kind to your piercings.  As it's also so light in weight it causes almost no friction to your piercing and this can help speed up the healing process which is always good news.
These silicone tunnels are available in 9 vibrant colours; blue, black, green, orange, pink, purple, red white and flesh. The "flesh" colour is great if you want to disguise your piercing.  The flesh tone is a good colour match for many customers but, as we're all different, it will suit some better than others! Go for the easy option and celebrate your large gauge ear piercings (it took you long enough to get them!) with some bright coloured ear tunnels! Shop all silicone body jewellery now!