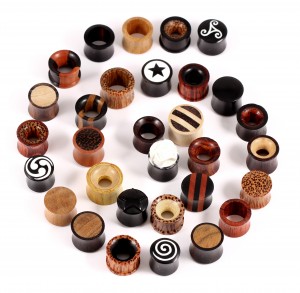 Organic body jewellery is lightweight, natural and has the added bonus that each & every piece is absolutely unique!
Another great benefit of natural body jewellery is that it helps reduce the odour sometimes associated with large gauge piercings by absorbing the oil and sweat around your stretched piercing.
Our horn & bone jewellery is made from water buffalo and is a by-product from animals that have been killed for food. In Asian culture it is believed that by utilizing the whole animal, with nothing going to waste, that it is honoured more fully. The horn is a deep black colour, extremely strong & durable and has an incredible shine!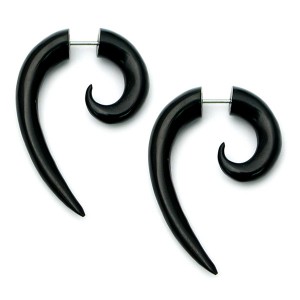 Coconut Palm Wood Body Jewellery: Coconut palm trees are often farmed as an ecologically friendly alternative to other hard woods. Palm trees only produce coconuts for approximately 60 years at which point they are felled to make way for new palms. Our coconut palm body jewellery is made from these felled trees and is not only durable but also has a striking appearance with its distinctive black stripes and spotted end grain.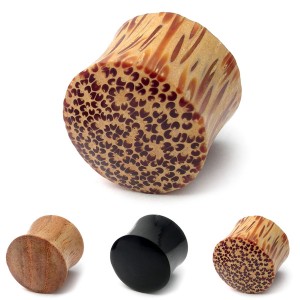 Crocodile Wood Body Jewellery: Native to lowlands from India to the Philippines crocodile wood is often called the Ivory of Woods due to its white/cream colouring and smooth texture. The unusual name relates to the appearance of the tree with its lumpy tooth shaped bark.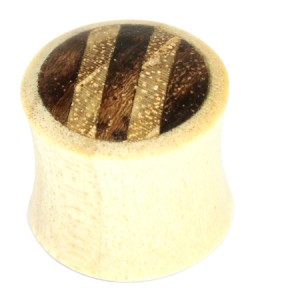 Jackfruit Wood Body Jewellery: The world's largest edible fruit, the jackfruit has been known to reach a length of 90cm and weigh 80lbs! The tree is grown for both its fruit and for its shade as the canopy often reaches 7m across atop its 25m height. This hard & durable wood is an attractive light brown colour with its distinctive deep grain which is interlocked and crack resistant.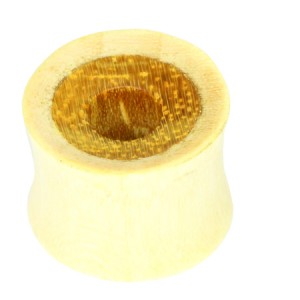 Sawo Wood Body Jewellery: Grown in vast quantities the Sapodilla (Sawo) tree can grow up to 30 metres tall.  This attractive flowering tree produces a fruit crop twice a year.  You will know when the fruit is ripe as the skin will turn saggy, can't say that really sells it to me!  Apparently it's very sweet and has a similar texture to pear, so maybe worth a shot.
The wood itself is an attractive mid brown shade similar to rosewood.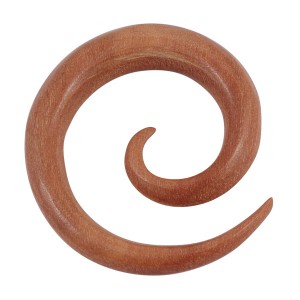 Sono Wood Body Jewellery: Is a large hardwood tree that grows up to 40m tall and is often planted in public areas as its wide and dense canopy and beautiful flowers provide great areas of shade. The leaves can be used in infusions as shampoos and are also said to be good for waxing and polishing brass and copper.
The wood itself is a wonderful dark brown colour with subtle dark streaks. Its dense texture lends itself to intricate carving and can be polished to an amazingly smooth glossy finish.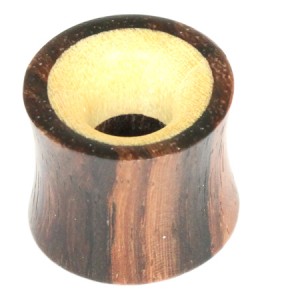 Teak Wood Body Jewellery: Indonesian Teak is sustainably grown in a plantation on Java by the Indonesian Government with limits on harvesting and a strict replanting scheme for each tree that is felled. Its naturally high oil content makes it durable even when untreated and ideal for use in boat building and outdoor furniture. Teak has a rich honey brown colour and tight grain that makes it ideal for body jewellery.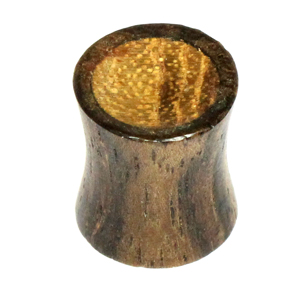 How To Care For Your Organic Body Jewellery; To prolong the life of your organic body jewellery, clean with mild soap and water and dry immediately, then oil with jojoba or grape seed oil on a monthly basis. It is advised to avoid prolonged exposure to sunlight, extreme heat or cold and sleeping or bathing with your jewellery in as this may cause it to crack or warp. All organic jewellery is porous and should be worn in healed piercing only.
Check out our full range of organic body jewellery including tunnels, plugs, expanders and fake stretchers.
N.B Organic body jewellery should not be exposed to any extreme temperatures and therefore should not be autoclaved or heat sterilised.