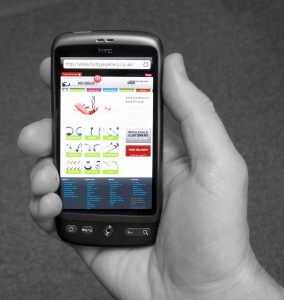 Check out all the latest body jewellery on our website with our new mobile friendly version.
On the beach and fancy a new belly bar to match your bikini?  In a club and fancy something UV to get you noticed?  Out for dinner, ate a ball from your oral piercing? ( you're not the first!)
Bookmark us for quick and easy access for all those emergency body jewellery situations! www.bodyjewellery.co.uk
Whilst you have your phone out why not take a picture of you wearing your TDi body jewellery and we'll feature you on our Facebook page!
Just email your pictures to valerie@bodyjewellery.co.uk and impress all your friends.