Gift cards for body jewellery are perfect for your pierced friends. Also excellent for a last minute gift as you will receive your e-voucher within minutes via email! Ideal if you don't know the size of your friend's piercing jewellery or even what type of piercing they have!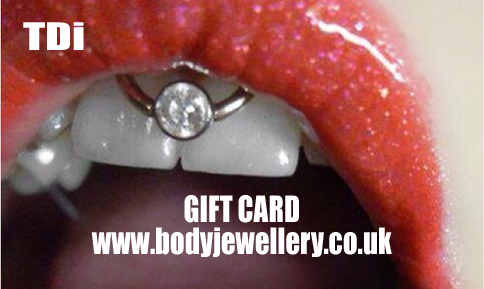 How does it work?
It's so quick and easy!
How Much? Just choose how much you would like your gift card to be for; prices starting at £10, going up to £30 in denominations of £10 £15, £20, £25 and £30.  Don't worry if you want to spend more, just order 2 gift cards, or more!
Make Payment: with Paypal or with your credit or debit card, our gift cards have no additional processing fees, and your gift card will be emailed to you by return!
Check Email: Just look out for an email entitled "Your bodyjewellery.co.uk gift card is ready!". This will give you a link to your gift card which will look as below…(ok, so the voucher code won't be pixelated!)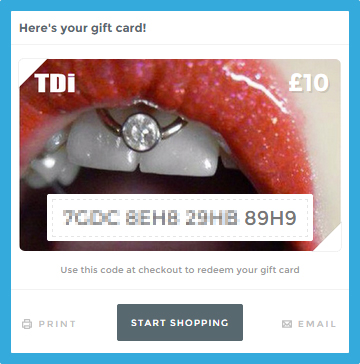 Email to Your Friend: You can choose to forward the email to your friend to redeem their voucher code at checkout.  They will see a "Start Shopping" button on their voucher, just click and shop!
Print e-Voucher: If you would prefer to have something to actually give them, just print off the voucher and pop in an envelope, wrap around a bar of chocolate, whatever you fancy!
You're worth it too! Gift vouchers are an easy way for your friends and family to treat you too!  Let's face it, your Mum may not know the difference between a septum and tragus piercing, never mind what piercing jewellery to put in it!  Make it easy and ask for a gift card so you can choose the piercing jewellery you actually want! It's a win, win situation!